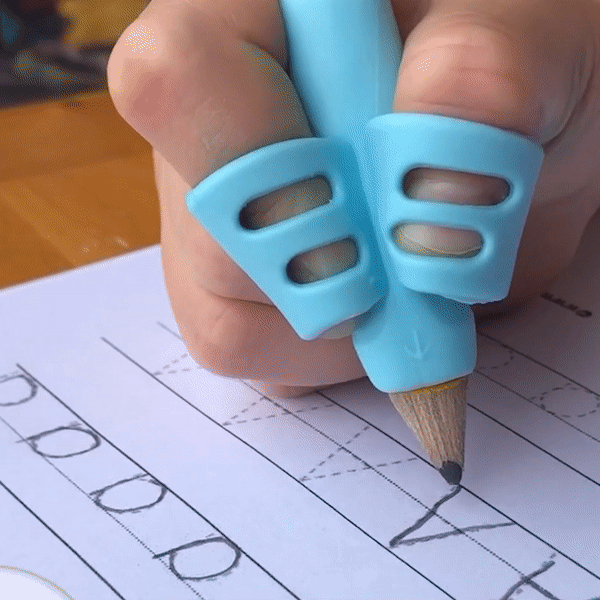 Fun and ergonomic experience of writing as they grow!
The writing tool provides support for correct positioning of the hand and is perfect for use by children who have not yet developed a proper writing grip. Simply slip over the tip of your child's favorite writing instrument to improve their grasp. Fits on pencils, pens, art markers, and other writing tools.
Why do Moms love this?
Writing is an important skill to master in childhood. It can help children to develop their coordination with the pencil, and build their confidence as they learn to write. Made from soft silicone, non-toxic, and environmentally friendly.
Bonus Mommy Powers:
✨
Designed for both righties and lefties.
 Applicable for children, people with motor disabilities, adults, or elderly people with arthritis and hand tremors. Suitable for children aged 2-13.
✨
Hollow ventilation design.
 Effectively prevents the thumb and forefinger from crossing and helps prevent mistakes for a breathable and more comfortable grip.

✨Easy to use. Has 2 finger pockets for the thumb and index finger. Simply insert the pencil into the main tube then place your child's thumb and index finger into the finger pockets.
✨
Maintain a good writing habit.
 It prevents the middle finger from cocooning and reduces hand fatigue and the possibility of having myopia, amblyopia, strabismus, and humpback.
So easy to use! Reduces letter slant, promotes proper spacing, encourages a relaxed grip, decreases fatigue, and enhances self-esteem in any child with handwriting difficulties.
Package Includes: 3 Writing Tools
Material: Food-safe silicone