This strategic board game offers hours of fun.
Have you or the children been bored more often lately and you don't want your child to sit on the tablet all day? ColorRow ™ is a strategic family game that will keep you and your kids entertained for hours!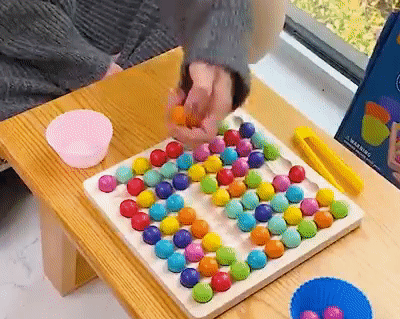 Why this game is IDEAAL for you and the kids:
Stimulates Brain & Memory - Stimulates the brain and strategic thinking. It improves your concentration, your memory and keeps you mentally fit!
Promotes the development of children - The ColorRow ™ board can be used as a Montessori board. It improves cognitive thinking, concentration, and fine motor skills in young children.

For young and old - The ColorRow ™ board game offers hours of fun, improves memory, is challenging and perfect for competitive players! Play with family, friends or children. The perfect game for young and old!
How does this work?

The ColorRow ™ Montessori Shield:

Let your child make figures with the chopsticks, the spoon or the clamp or sort the colors on the plate. In this way, the child's motor skills, concentration and cognitive thinking skills are developed and stimulated. Suitable for children aged 4 to 7 years.
The strategic family game ColorRow ™:

Move the beads around the board at random. The middle space on the board remains empty. Slide the balls so that there are 2, 3 or 4 balls of the same color in a row. Take all the pearls from the board that you have on the same row.
2 pearls = 5 points

3 pearls = 10 points
4 pearls = 20 points
The player with the most points wins!
Specifications:
Dimensions: 20 * 20 * 1.2cm
Material: wood
Age: 4-65 +

What's in the package?
1x ColorRow ™ plate

1x wooden spoon, 1x wooden clip, 1x chopstick

80 x pearls

7x pearl bowl
Montessori-Brett- und Familienspiel