∞ UNLIMITED WAYS TO PARTY!
Customizable via smartphone 📲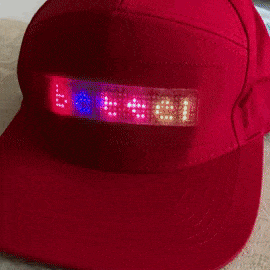 🧢 No more expensive merchandise needed! Grab attention with our Glow Cap. You can type a text and can fully customize it to fit any Baseball game, Elections, Prom, Music festivals, Birthday parties, Trucks, Christmas, Bars, Clubs, Lighting parties, Carnivals, New Year Festivals, Coffee shops, Shopping malls and so on.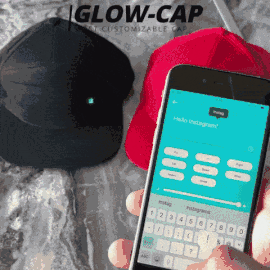 THE IDEAS ARE LIMITLESS!
Super innovative & entertaining.
🎉 Whether you want to make a statement while walking down the street or be the soul of the party, attract attention with our great conversation starter - Glow Cap
✔ And the best part is that our Glow Cap is priced like any regular cap.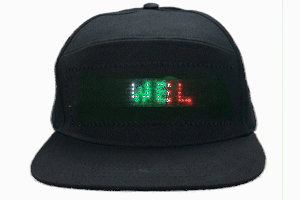 Unlimited Options
🧢 Control via Bluetooth with your smartphone (App available on Google Apps & Apple Store).
🧢 The perfect gift for every occasion.
🧢 Perfect for advertising.
🧢 DIY Mode - custom drawings.
🧢 Working time is ~8-10 hours.
🧢 Removable display. The cap can be machine-washed.
🧢 Brightness control available!
🧢 It's unisex.
Geek Details
✔ 100% made from cotton.
✔ Up to 80 characters can be displayed!
✔ User-Friendly App - super easy to navigate & use!
✔ Wireless - No cables, just bluetooth!
✔ Built-in 450mAh USB rechargeable battery!
✔ Available in different colors - black, white, blue, red!
✔ 180 LED diods - 36x5 with 4 different display colors.
✔ Cap Size - shown on picture.
✔ Cap Weight - around 120g
Smartphone App Support
Super easy to setup the Glow-Cap!
1️⃣ Just Scan the QR Code to download the App.
2️⃣ Turn On your Bluetooth & open the App.
3️⃣ Connect your Glow-Cap from the 'Connections' list.
4️⃣ Go to the 'Pencil' from the menu and type your message.
5️⃣ Press the Red Button on the bottom to visualize the message.