Description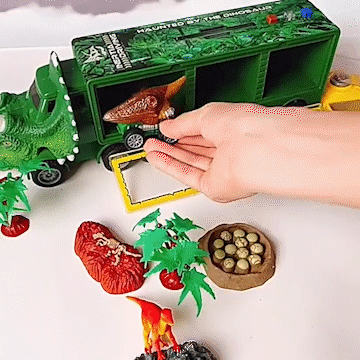 [❤️Best Christmas Gift❤️]
Children will have a lot of fun while playing with so many vehicles and dinosaurs. Playing with Dinosaurs Truck and experiencing together an endless amount of incredible adventures.
[Much Joy]:
Our dinosaur car set includes 1 Big Dino Carrier Truck,3 Pull Back Dino Vehicles & 3 Random Jurassic Period Dinosaurs, including Dimetrodon, Velociraptor, Stygimoloch, Tyrannosaurus rex, Stygimoloch, Brachiosaurus and Parasaurolophus. Bring your kids into a dinosaur world and enjoy exploring!
[Lights & Songs & Dinosaur!]
The inertia-driven dinosaur truck is designed with a Carrying Handle on Top, making it portable. Pressing the buttons on top of the carrier truck will activate lights, songs, and sound of a dino roaring. The engine can also be activated, which is very attractive to the children.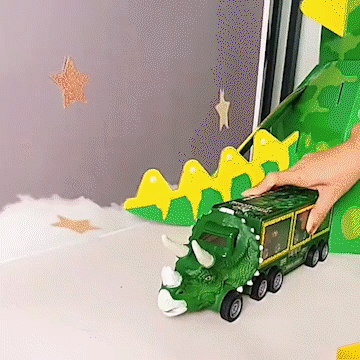 [Suitable For Ages 3+]
Both boys and girls love dinosaur cars. Just pull back, and then release your hand letting it go. It can run a long distance with no battery required. The truck comes with a slide. All small dino cars can slide down from the top. What a perfect toddler toy for dinosaur lovers!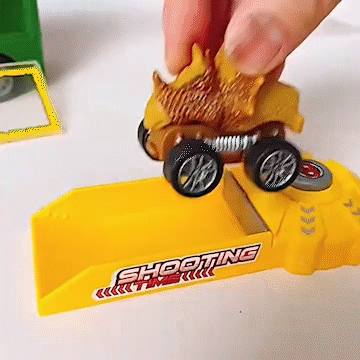 [Soft Rubber · Completely Safe]
The front of the truck features a dinosaur head design. All accessories are dinosaur themed. Kids' attention can be easily gotten by our dinosaur toy set. Their ability to recognize colors and dinosaur species, toddlers' imagination, language skills, and hand-eye coordination will be improved while playing.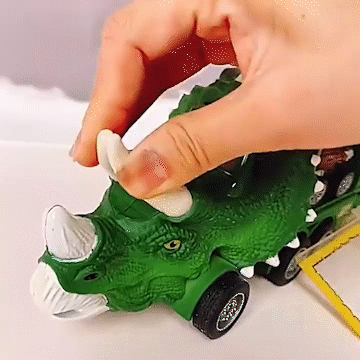 [Best Christmas Present❤️]
This dinosaur truck set is a perfect gift for kids aged 3-12. It can be a great source of fun for toddlers who love trucks and dinosaurs! They will love it as their birthday, Christmas, school prize, or New Years gift.
Soft rubber corners: the two corners of the Transporter Triceratops are made of soft rubber, so you don't have to worry about hurting your baby when playing with them.