Develop your child's intelligence without any stress
Are you struggling to spend some educational time with your little one?
Or maybe you have been thinking about buying a toy that is so much fun but also beneficial?
This train will help educate your kids about counting and colors, while also having a BLAST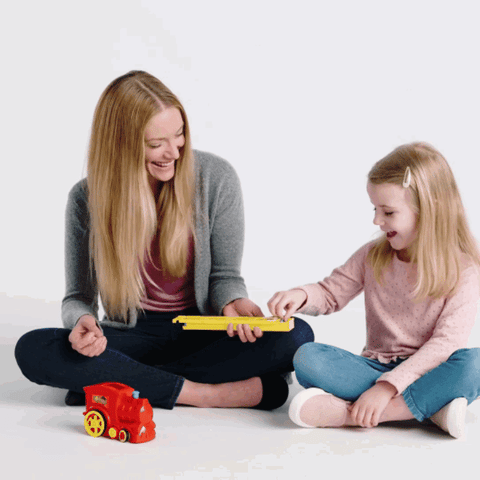 IMPROVE YOUR CHILD'S IQ AND MAKE LEARNING FUN AND EASY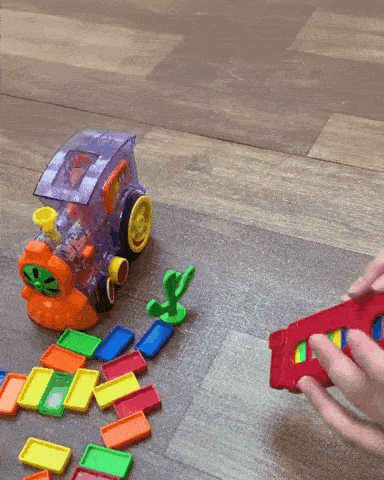 Domino Train will engage your little engineer's brain and develop their ability to familiarize themselves with colors and count the number of blocks as they continue playing with the train. The more engaged your child is while playing, the sharper will be his ability to learn skills.
Our Product features:
80 ,120,160 Domino pieces.
Multiple colors are available.
Double AA battery operated (not included).
Made out of safe materials.
Why would my kid need it?

IMMERSIVE FUN: The brand-new construction vehicle style can let the domino construction vehicle release a long enough formation. Add a set of road construction props to make the children immersive.
ENCOURAGES STEM DEVELOPMENT: Designed to engage kids in their early STEM development, our Dominos encourage children's spatial thinking abilities, color recognition and will keep your little engineers coming back for more fun.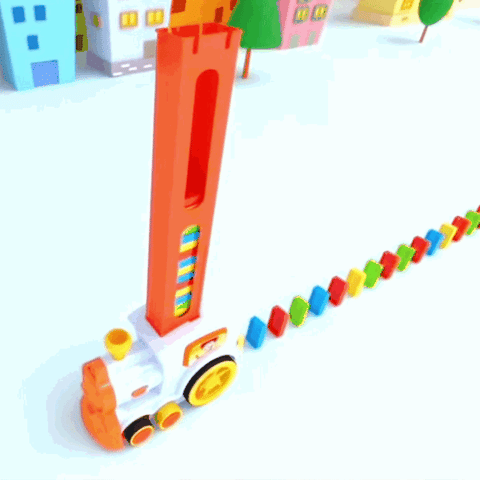 AUTOMATIC LAYING FUNCTION: Dominos will automatically be laid on the surface during the movement of the train. After the placement is completed, push the first domino. The dominos will begin falling after each other creating a chain-like effect that rolls like a race.
SAFE TO PLAY WITH: These plastic Blocks domino pieces are finished with non-toxic paints, which are safe and won't fade. The dominos are made of high-quality plastic, Smooth edges to ensure children's safety during play. 
PERFECT GIFT FOR BOYS AND GIRLS: This is a fun toy, especially if you and your kids/grandkids are domino racing fans. It can also be used as Christmas gifts, Halloween gifts, children's birthday surprises, and jigsaw puzzles, giving children happy entertainment.
A PERFECT CHRISTMAS GIFT Make your kids believe in the magic of Christmas: with Domino Train Toy It will give your kiddos a Happy Entertainment Time that will brighten up their spirit with its fancy design and immense colorful presence
How to Play
Load the cartridge by pushing it down onto the dominoes
Attach the cartridge to the top of the train and switch the train on
Turn the train's funnel to steer left and right
As the train moves forward, standing dominos will deposit in a row
Then, your child can push the dominos to form a fun chain